abdominoplasty / tummy tuck
Many a times dieting and exercise cannot bring back your desired shape. This is particularly true for women who have gone through pregnancy.
Prior to pregnancy, there may have been a beautiful hour glass shape that has now changed to a more square- like shape. Even individuals of otherwise normal body weight and proportion can develop an abdomen that protrudes or is loose and sagging.
The most common causes include
Hereditary
Significant Aging
fluctuation in weight
If you are bothered by the appearance of your stomach, a tummy tuck may be a good option for you.
What is abdominoplasty or tummy tuck?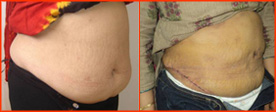 Abdominoplasty, is a surgical procedure that involves the removal of excess skin and fat from the middle and lower abdomen and tightens the abdominal wall. This procedure can reduce the appearance of a protruding abdomen.
Many a times abdominoplasty is done in combination with liposuction.
Who is a good tummy tuck candidate?
When considering a tummy tuck procedure, it is very important to understand what a tummy tuck is intended for.
Many patients come with excess skin, unwanted fat and bulging of abdomen that cannot be eliminated through exercise and diet. They are ideal for tummy tucks.
Women who have gone through pregnancy are often good candidates for a tummy tuck. The strain that this puts on their skin and muscles create the conditions that a tummy tuck treats precisely.
Procedure
This surgery is done under general anaesthesia. The incision is made low, just above the pubic hairline and gently curves into the region of the hip bone. The length of the incision varies depending upon the amount of skin to be removed. A small incision is also made around the belly button to free it from the surrounding skin for final positioning. The skin flap is elevated, the underlying abdominal wall muscles are tightened, and excess lower abdominal skin is excised. The position of navel remains unchanged. Liposuction of certain areas may also be performed. The final scar is usually well hidden by underwear or a bikini bathing suit.
Recovery Time
Abdominoplasty takes a little while to heal. We suggest you to take for 2 weeks from work. Light aerobic activity may be resumed as early as seven days following tummy tuck, and more strenuous activity is begun at three weeks.
Your relationship with us does not end after tummy tuck surgery; we will see you often through the first weeks and months following your abdominoplasty, and will advise you on all matters in your recovery including exercise, activity and diet.
we are here

Dr. Sathishchandra
FLAUNT-Hair transplant and cosmetic
surgery center, 2nd Floor, Legacy
Commercial Complex, Above Dominos
Pizza, Bendoorwell, Mangalore - 575 002
Phone:0824-2433388
Mob :+9190350 90976
Email: satchandra2001@yahoo.com
info@cosmeticsurgerymangalore.com