BREAST Asymmetry correction
While majority of women have slight differences in size and shape of the breasts which is usually unnoticed, for a minority, the differences in size and shape can be extreme. Marked breast asymmetry results in embarrassment about appearance both in and out of clothing.
When a women has different size breasts, breast correction surgery can help balance the appearance of her bust.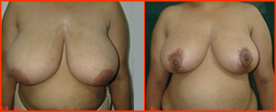 Correction of breast asymmetry can be done in a number of ways. Some patients prefer to enhance the breasts that's smaller to make them similar in size. Other patients prefer to reduce the size of one breast so that it matches the other. We will help you determine which method of correction is ideal in your specific case.
we are here

Dr. Sathishchandra
FLAUNT-Hair transplant and cosmetic
surgery center, 2nd Floor, Legacy
Commercial Complex, Above Dominos
Pizza, Bendoorwell, Mangalore - 575 002
Phone:0824-2433388
Mob :+9190350 90976
Email: satchandra2001@yahoo.com
info@cosmeticsurgerymangalore.com