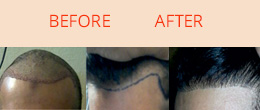 Hair transplantation is a procedure in which hair from back side of the scalp is taken and then implanted in the bald area. The procedure is carried out to treat both male and female baldness of scalp. Hair transplantation is undertaken to improve the hairline in eyebrows, beard and moustache as well.
How is it done?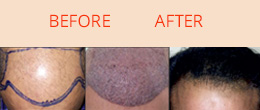 - Hair transplantation is done under local anaesthesia. The duration of the procedure depends on the area of baldness. The patient is fully conscious , and can take breaks between the procedure. Hair follicles, which are minute modified parts of skin, growing hair shafts, are dissected out from the back of the head. These follicles are then grafted to the bald area where they start growing. This procedure gives a much younger look and is a permanent one.
There is slight pain and discomfort in the back of the head and grafted areas for a couple of days. There may be some amount of swelling over the forehead and eyes which subsides within 2-3 days. Care needs to be taken, so that you do not disturb the grafts in their new bed for a week. Tiny shoots of the transplanted follicles start showing up from 2-4 months after the procedure, which then grow in tandom with the rest of the hair.
we are here

Dr. Sathishchandra
FLAUNT-Hair transplant and cosmetic
surgery center, 2nd Floor, Legacy
Commercial Complex, Above Dominos
Pizza, Bendoorwell, Mangalore - 575 002
Phone:0824-2433388
Mob :+9190350 90976
Email: satchandra2001@yahoo.com
info@cosmeticsurgerymangalore.com