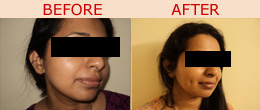 Dimple surgery, also referred as dimpleplasty, in the recent times is the most soughted cosmetic surgery enhancement procedure.
The enviable dimpled smile is no more restricted to selected few. A number of young girls and boys are willing to go under the knife for that prominent hollow on the face.
The procedure is a safe and effective one. It is done under local anaesthesia, as a day care procedure. A small depression is created in the cheek region. This is done through inside of the mouth without external scars. A small amount of muscle is removed in the location that it would be absent in a natural dimple. Next, absorbable sutures are used to create the appearing dimples. The entire procedure takes 30 minutes to complete.
we are here

Dr. Sathishchandra
FLAUNT-Hair transplant and cosmetic
surgery center, 2nd Floor, Legacy
Commercial Complex, Above Dominos
Pizza, Bendoorwell, Mangalore - 575 002
Phone:0824-2433388
Mob :+9190350 90976
Email: satchandra2001@yahoo.com
info@cosmeticsurgerymangalore.com